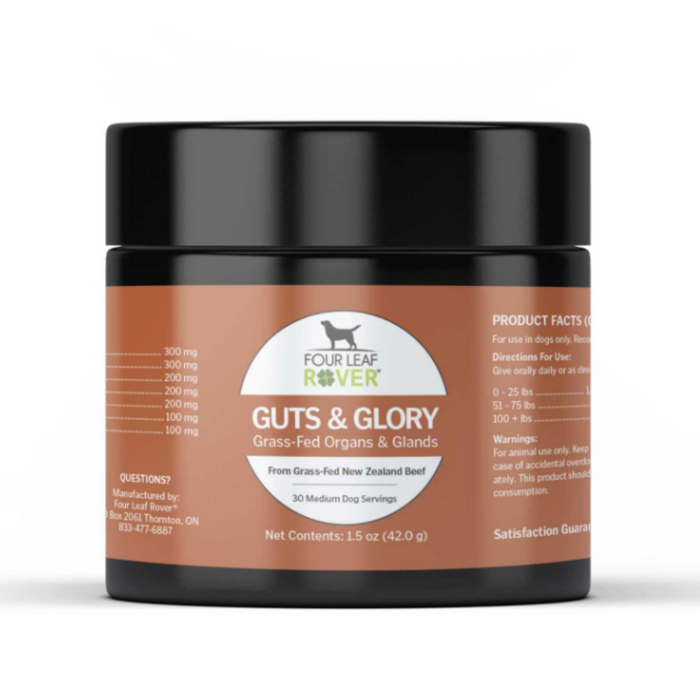 Guts & Glory
Sale
Sale
Original price
$38.99
-
Original price
$38.99
Yes, dried, powdered organs sounds kind of weird, but this isn't about you, it's about your BFF ;)
For Leaf Rover has your back. Not only does Guts & Glory make it easier to feed offal to your dog, it's also way less messy!
Nutrient dense

Excellent for heart health

Helps move toxins through the body

Provides a great alternative for dogs who have a hard time with the richness of fresh organ meat
Excellent for kibble-fed or fresh-fed dogs.

Active Ingredients per 1400mg (3/4 tsp):
| New Zealand Liver (Bovine) ... | 300mg |
| --- | --- |
| New Zealand Heart (Bovine) ... | 300mg |
| New Zealand Kidney (Bovine) ... | 200mg |
| New Zealand Pancreas (Bovine) ... | 200mg |
| New Zealand Spleen (Bovine) ... | 200mg |
| New Zealand Adrenal (Bovine) ... | 100mg |
| New Zealand Thymus (Bovine) | 100mg |
Inactive Ingredients: None
(No preservatives, fillers, binders, or added flavourings)