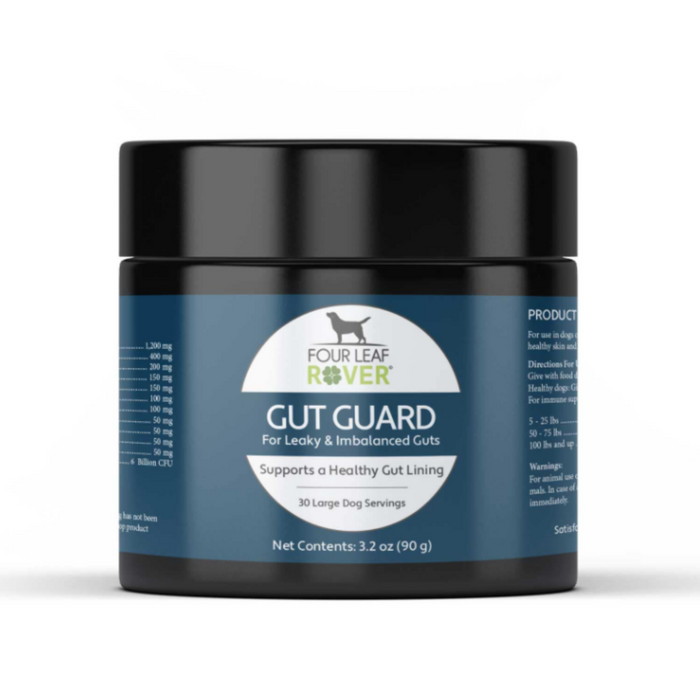 Gut Guard: for leaky gut or an irritated GI tract
Sale
Sale
Original price
$49.99
-
Original price
$49.99
Tummy gurgles? Loose or slimy stool?
Four Leaf Rover's Gut Guard is a powerful probiotic that helps support a healthy gut and the immune system by feeding the bacteria and microorganisms that eat starches and fibres your dog struggles to digest.

Veterinary formulated
Contains anti inflammatory herbs that help heal and seal the gut
Great for dog with noisy guts, bile pukes, loose or slimy stool, those who've recently used antibiotics
Good for cats too!
Active Ingredients per 3.0 grams (1 tsp):
| L-Glutamine ... | 1,200 mg |
| --- | --- |
| N-Acetyl Glucosamine ... | 400 mg |
| Licorice (Deglycyrrhizinated) Root Extract ... | 200 mg |
| Certified Organic Aloe Vera Leaf Extract ... | 150 mg |
| Certified Organic Marshmallow Root Extract ... | 150 mg |
| Certified Organic Slippery Elm ... | 100 mg |
| HumicSure™ (Humic and Fulvic Acid) ... | 100 mg |
| Certified Organic Chamomile ... | 50 mg |
| Certified Organic Dandelion Root ... | 50 mg |
| Certified Organic Burdock Root ... | 50 mg |
| Certified Organic Ginger Root ... | 50 mg |
| Proprietary Probiotic Blend ... | 6 Billion CFU |
(Pediococcus acidilactis, Bacillus coagulans, Bacillus subtilis)