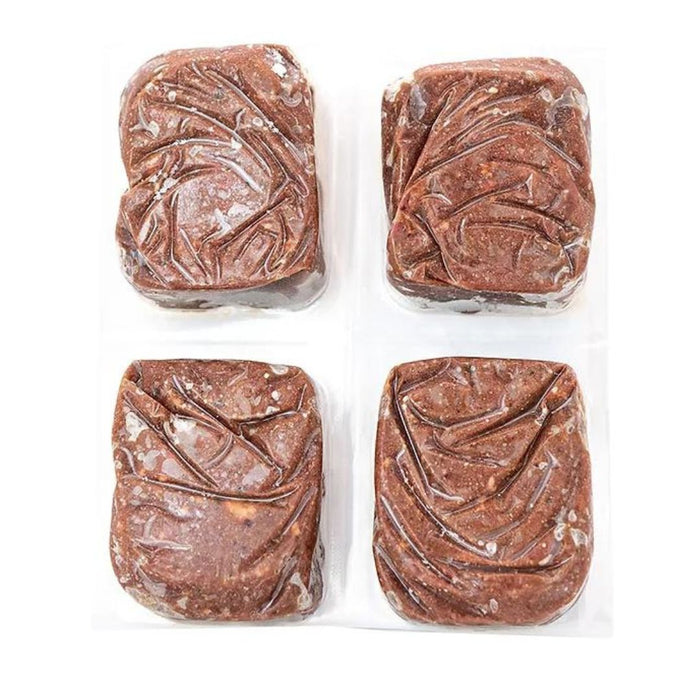 Venison for Dogs (Foundations Raw)
Sale
Sale
Original price
$12.29
-
Original price
$144.79
Please note: This is a frozen or perishable food product and we are unable to offer our Canada-wide shipping for this reason.

In-store pick-up is always free at our Toronto location, or you can choose our Local Delivery* option at checkout.

*only available in Toronto
RDBK's venison meals are made from human grade, non-medicated venison meat, buffalo organs and organic vegetables. It's also a great meal for dogs with allergies and food sensitivities. FOUNDATIONS RAW, when fed in rotation with other FR meals, provides a balanced diet. 

1 LB peel back pouches or 1 LB pouches sections into 4 (see photos)
75% MEAT, BONE AND ORGAN / 25% VEGGIES
Venison muscle meat, buffalo liver, buffalo kidney, chard*, sweet potatoes, celery*, squash*, lettuce*, buffalo heart, beets*, pumkpin seeds*, buffalo bone powder.
*Certified organic
SUPPLIER / INGREDIENT DETAILS
| | | |
| --- | --- | --- |
| Ingredients | Origin | Details |
| Venison Muscle Meat | New Zealand | Humanely raised in pasture without hormones |
| Bison Organs | Canada (AB & SK) | Humanely raised in pasture without hormones |
| Vegetables | North America | Certified Organic |

Red Dog Blue Kat's goal is to ensure all animals are treated with respect. We source from suppliers that raise their animals without antibiotics, but may administer antibiotics for welfare reasons in the rare event that an animal gets ill.
NUTRITIONAL ANALYSIS:
MACRONUTRIENTS

Composition

As Fed

DM

Moisture

71.8%

Protein

16.1%

57%

Fat

10.0%

35%

Ash

1.5%

5%

Fiber

0.5%

1.8%

Energy**

1,238

4,855

**Energy measured in kcal/kg
MINERALS

Composition

As Fed

DM

Calcium

%

0.26

1.02

Phospharus

%

0.27

1.05

Ca:P ratio

0.97

0.97

Potassium

%

0.32

1.26

Sodium

%

0.08

0.33

Magnesium

%

0.04

0.14

Iron

mg/kg

30.59

119.96

Copper

mg/kg

4.12

16.16

Manganese

mg/kg

1.64

6.44

Zinc

mg/kg

31.43

123.25

Iodine

mg/kg

0.00

0.00

Selenium

mg/kg

0.20

0.78
VITAMINS

Composition

As Fed

DM

Vitamin A

IU/kg

27558.4

108069.9

Vitamin D

IU/kg

30.4

119.4

Vitamin E

IU/kg

18.0

70.5

Thiamine

mg

3.5

13.5

Riboflavin

mg

3.5

13.6

Pantothenic Acid

mg

9.2

36.1

Niacin

mg

42.8

168.0

Vitamin B6

mg

3.6

14.3

Folic Acid

mg

0.3

1.1

Vitamin B12

mg

0.0

0.2

Choline

mg

800.4

3138.9

Taurine

g

0.4

1.7