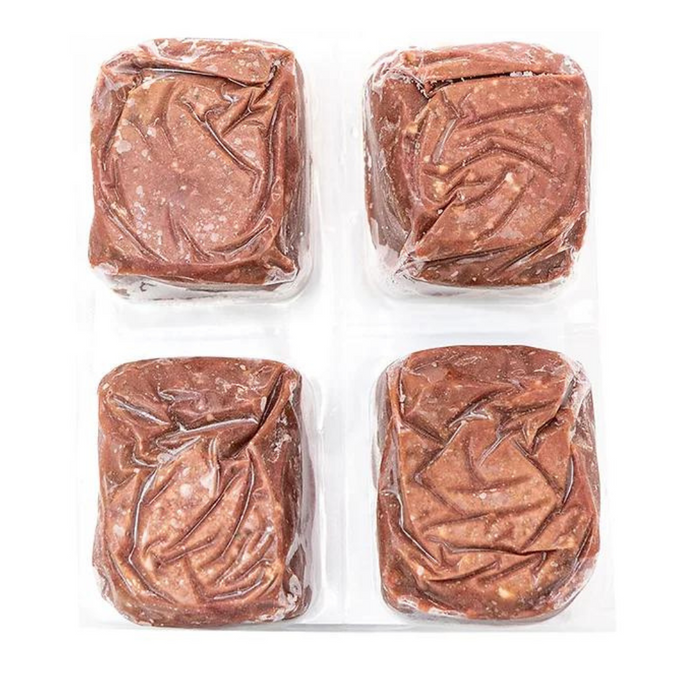 Venison for Cats (Foundations Raw)
Sale
Sale
Original price
$14.79
-
Original price
$14.79
Please note: This is a frozen or perishable food product and we are unable to offer our Canada-wide shipping for this reason.

In-store pick-up is always free at our Toronto location, or you can choose our Local Delivery* option at checkout.

*only available in Toronto
One pound pouches divided into 4 for easier portioning.
Venison and Veggie meals are made from human grade, non-medicated buffalo (aka bison) meat, buffalo organs and organic vegetables. No additives, preservatives or fillers.
97% MEAT, BONE AND ORGAN / 3% VEGGIES
Venison meat, buffalo heart, buffalo liver, buffalo kidney, free-range eggs, buffalo bone powder, chard*, sweet potatoes*, lettuce*, squash*, celery*, beets*, pumpkin seeds*, wild salmon oil.
*Certified organic
DAILY FEEDING GUIDE

Life Stage

Amount*

Kitten

6-10%

Adult

2-4%

Senior

2-3%

*As a percentage of body weight
MACRONUTRIENTS

Composition

As Fed

DM*

Moisture

73.2%

Protein

20.1%

74.9%

Fat

4.2%

15.7%

Fiber

0.2%

0.9%

Energy**

1,191

4,445

**Energy measured in kcal/kg

*DM - Dry Matter
MINERALS

Composition

As Fed

DM*

Calcium

%

0.33

1.22

Phospharus

%

0.33

1.24

Ca:P ratio

0.98

0.98

Potassium

%

0.30

1.11

Sodium

%

0.07

0.27

Magnesium

%

0.04

0.15

Iron

mg/kg

37.66

140.52

Copper

mg/kg

5.86

21.87

Manganese

mg/kg

1.59

5.93

Zinc

mg/kg

25.71

95.94

Iodine

mg/kg

0.00

0.00

Selenium

mg/kg

0.31

1.17

*DM - Dry Matter
VITAMINS

Composition

As Fed

DM*

Vitamin A

IU/kg

18705.8

69794.5

Vitamin D

IU/kg

72.7

271.2

Vitamin E

IU/kg

16.1

60.1

Thiamine

mg

0.4

1.3

Riboflavin

mg

4.3

16.1

Pantothenic Acid

mg

7.3

27.4

Niacin

mg

13.5

50.3

Vitamin B6

mg

1.1

4.2

Folic Acid

mg

0.3

1.2

Vitamin B12

mg

0.1

0.2

Choline

mg

875.9

3268.3

Taurine

g

0.2

0.6

*DM - Dry Matter