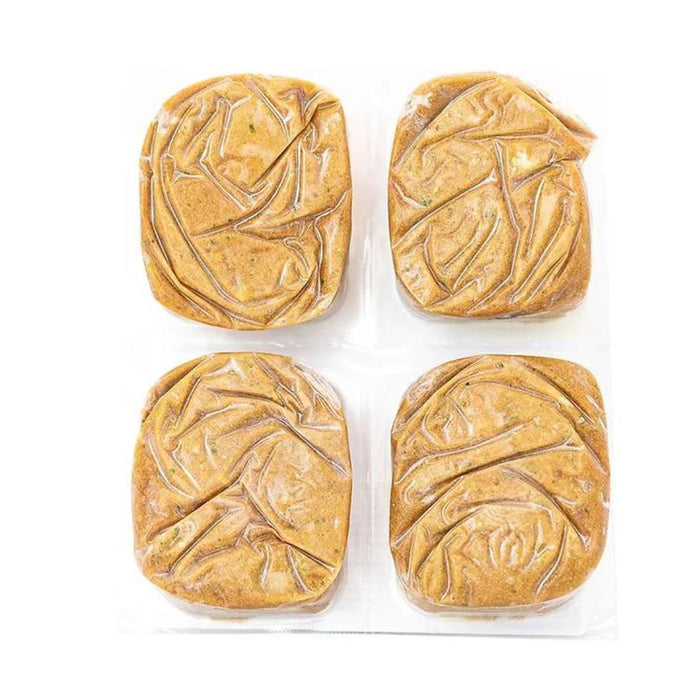 Turkey for Dogs (Foundations Raw)
Sale
Sale
Original price
$8.49
-
Original price
$91.29
Please note: This is a frozen or perishable food product and we are unable to offer our Canada-wide shipping for this reason.

In-store pick-up is always free at our Toronto location, or you can choose our Local Delivery* option at checkout.

*only available in Toronto
75% MEAT, BONE AND ORGAN / 25% VEGGIES
Each 1 LB pouch is divided into 1/4 LB

Free-range, non-medicated turkey meat, turkey bone, turkey organs, bok choy*, yams*, zucchini*, lettuce*

TEMPORARY RECIPE NOTICE: Due to significant supply challenges, as of January 17, 2022, some Turkey Base, Dog and Cat batches will not include turkey organs. The food industry is experiencing an unprecedented amount of challenges due to COVID-related labour shortages and other natural phenomena. This has resulted in a temporary supply shortage of turkey organs (mostly due to staffing issues to harvest them at processing facilities). We are working hard with our turkey suppliers to secure more organs and will revert back to our original recipe as soon as possible. As always, we highly recommend feeding a rotation of red meat, white meat and fish recipes to ensure your pet is getting everything they need. While organs are a great source of essential minerals, temporary short-term exclusions of these in a diet should not pose a risk to the health of your pets. If you are not able to rotate, we would recommend adding either organ meet or a dried version.
| | |
| --- | --- |
| Moisture | 72.67 |
| Protein | 12.42 |
| Fat | 7.81 |
| Calcium | 1.08 |
| Phosphorus | 0.36 |
| Kcal/100g (Energy) | 133 |

Poultry provides several key ingredients. Because poultry bones are small and hollow, they can be ground down into the food. Bones are the number one source of calcium in the canine raw diet and it's essential to include bones in some form. Poultry ground with bone is great for dogs of all life stages to ensure healthy bone growth and maintenance, nervous system health and much more.

Turkey meat is high in zinc, potassium and selenium. Zinc is essential for metabolic function, immune system health, wound healing, thyroid function, blood clotting and correct development in young dogs. Potassium plays a role is cellular function (especially water balance) and heart health. Selenium is needed for thyroid function and is a powerful antioxidant. It has been found that it may even decrease risk of cancer and heart disease .Turkey also contains the highest levels of taurine of any meat.

Red, yellow, and green veggies are a great source of antioxidants and phytonutrients for your pet. Ours are blended for maximum absorption.