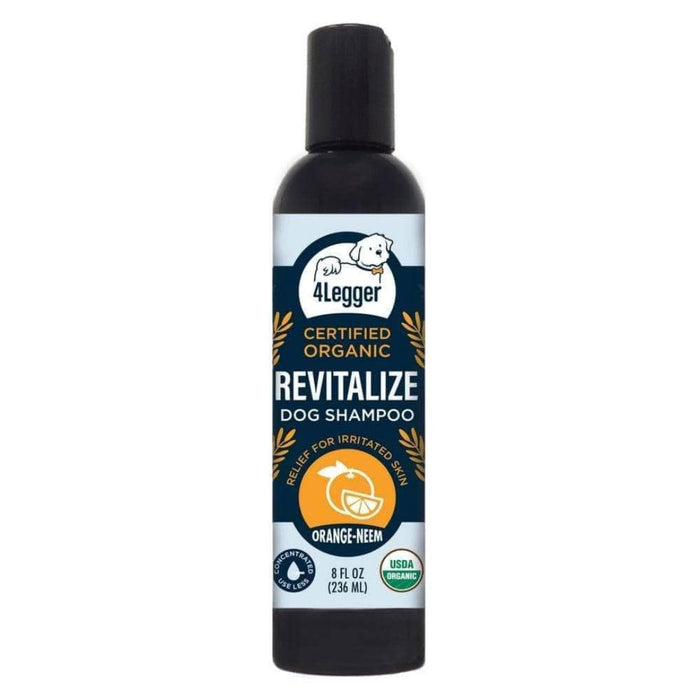 Revitalize Shampoo with Neem
Sold out
Original price
$28.99
-
Original price
$28.99
USDA Certified Organic Dog Shampoo
8oz
What's in it is just as important as what isn't
*important usage note: this product is pure/thin so a little goes a very long way. When bathing, add a splashes of water to your dog rather than more product!

This concentrated organic neem dog shampoo with organic orange essential oil is an uplifting blend for dog's battling fleas, red itchy skin, or dermatitis (skin inflammation) caused by allergies, flea bites, or environmental conditions. 

Neem shampoo uses organic orange essential oil to promote the production of collagen to repair damaged skin and reduce skin inflammation
Naturally deodorizing dog shampoo gets rid of the "doggy smell" using organic ingredients
Natural flea shampoo for dogs uses Certified Organic Neem Oil - a highly sustainable oil known for its ability to repel pests and provide strong natural anti-fungal, antibacterial and antimicrobial properties
Dog dandruff shampoo that hydrates and improves the skin and health of hair follicles
Organic Aloe Juice, Organic Saponified Oils (Coconut, Shea Butter, Olive, Sunflower & Jojoba), Organic Vegetable Glycerin, Organic Sweet Orange Essential Oil, Organic Neem Oil, Organic Rosemary Extract
Not recommended for cats.