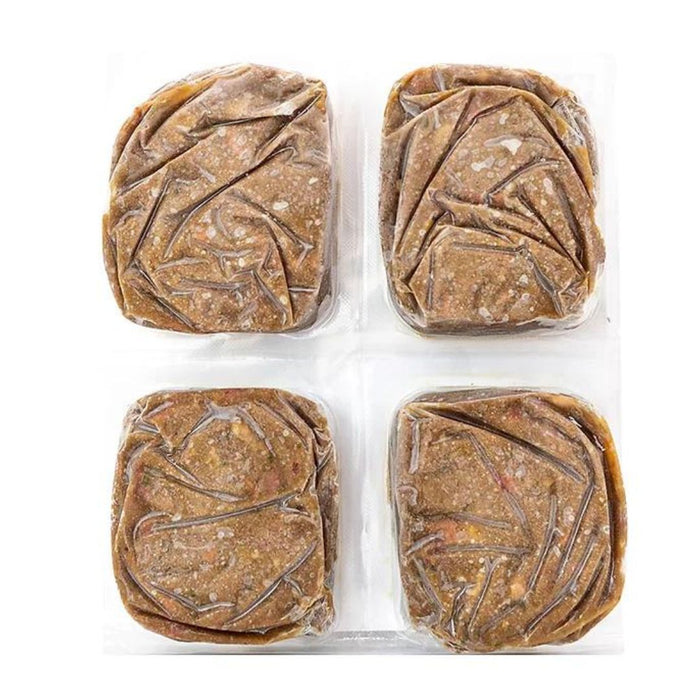 Kangaroo for Dogs (Foundations Raw)
Sale
Sale
Original price
$11.49
-
Original price
$128.79
Please note: This is a frozen or perishable food product and we are unable to offer our Canada-wide shipping for this reason.

In-store pick-up is always free at our Toronto location, or you can choose our Local Delivery* option at checkout.

*only available in Toronto
Kangaroo and Veggie meals are made from Wild Australian kangaroo meat, lamb organs and organic vegetables. The leanest and most exotic of all Red Dog Blue Kat meals, it is great for dogs with allergies or food sensitivities. Kangaroo is also the leanest of meats, so it's especially good for dogs that need to shed a few pounds, or those with chronic pancreatitis.
75% MEAT AND ORGAN / 25% VEGGIES
Kangaroo muscle meat, butternut squash*, chard*, celery*, zucchini*, lamb liver, lettuce*, lamb heart
*Certified organic
SUPPLIER / INGREDIENT DETAILS
Ingredients
Origin
Details

Kangaroo meat

Australia

Humanely harvested from wild population

Lamb organs

New Zealand

Humanely raised on pasture without hormones

Vegetables

North America

Certified Organic
RDBK's goal is to ensure all animals are treated with respect. We source from suppliers that raise their animals without antibiotics, but may administer antibiotics for welfare reasons in the rare event that an animal gets ill.
HOW MUCH TO FEED YOUR DOG
The table below provides a starting point, to be adjusted as needed to maintain optimum weight and peak conditioning. For best results, we recommend feeding red meat meals in rotation with poultry and fish, and adding fresh wild salmon or cod liver oil before serving.
DAILY FEEDING GUIDE

Life Stage

Amount*

Puppy

6-10%

Small Breed

3-5%

Athlete

4-6%

Adult

2-4%

Senior

2-3%

*As a percentage of body weight
MACRONUTRIENTS

Composition

As Fed

DM

Moisture

%

81.4%

0.0%

Protein

%

13.8%

74.2%

Fat

%

1.5%

8.0%

Ash

%

1.0%

5.1%

Fiber

%

0.2%

1.2%

Energy**

770.00

**Energy measured in kcal/kg
MINERALS

Composition

As Fed

DM

Calcium

%

0.01

0.05

Phospharus

%

0.55

2.96

Ca:P ratio

0.02

0.02

Potassium

%

1.35

7.26

Sodium

%

0.46

2.47

Magnesium

%

0.11

0.59

Iron

mg/kg

25.00

134.41

Copper

mg/kg

5.00

26.88

Manganese

mg/kg

1.00

5.38

Zinc

mg/kg

22.00

118.28

Iodine

mg/kg

0.05

0.29

Selenium

mg/kg

0.21

1.10
VITAMINS

Composition

As Fed

DM

Vitamin A

IU/kg

19271.4

103609.7

Vitamin D

IU/kg

0.0

0.0

Vitamin E

IU/kg

2.4

12.8

Thiamine

mg

0.9

4.9

Riboflavin

mg

1.7

8.9

Pantothenic Acid

mg

3.2

17.3

Niacin

mg

8.3

44.7

Vitamin B6

mg

0.6

3.1

Folic Acid

mg

0.1

0.6

Vitamin B12

mg

0.0

0.2

Choline

mg

128.5

690.7

Taurine

g

0.1

0.3