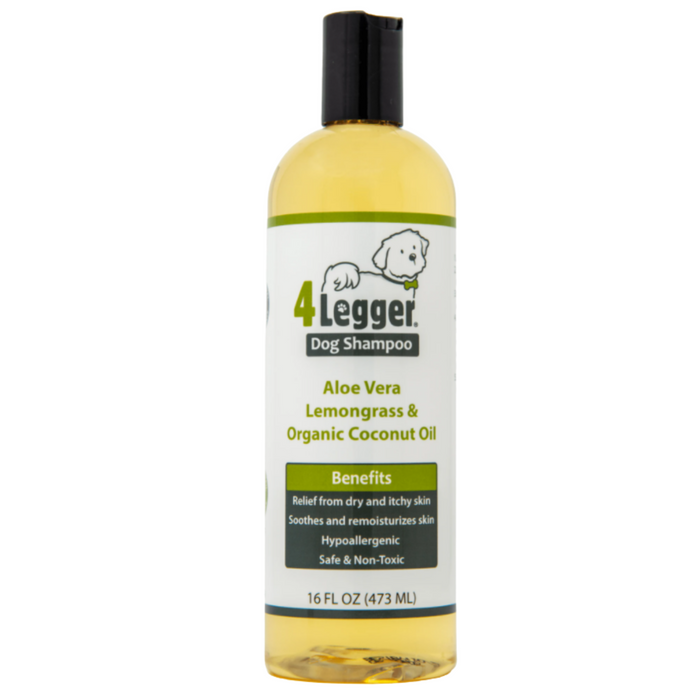 Hypoallergenic Shampoo: Lemongrass & Aloe
Sale
Sale
Original price
$28.99
-
Original price
$28.99
USDA Certified Organic Dog Shampoo
16oz
What's in it is just as important as what isn't
*important usage note: this product is pure/thin so a little goes a very long way. When bathing, add a splashes of water to your dog rather than more product!
Suitable for dogs of all skin types. It it can soothe dry and itchy skin while promoting naturally healthy skin using sustainably sourced beneficial certified organic oils, essential oils, and aloe vera.

Your dog's skin will benefit from the gentle cleaning, moisturizing, conditioning, and softening without stripping their natural coat oils.

Lemongrass is a natural cleanser that rids odours rather than piling over top - with toning qualities that help stimulate blood circulation and tone up skin. Lemongrass is known for providing antibacterial, anti-fungal and pest deterrent properties.


What's in the bottle?
Saponified organic oils of coconut, olive, and jojoba, natural essential oil blend of rosemary and lemongrass, organic aloe vera, and rosemary extract
Why 4-Legger is Safer and Better:
In addition to being USDA Certified to Organic Food Standards, they're products non-toxic.

Nothing artificial or synthetic!

Made with the highest quality ingredients available selected for sustainability and low environmental impact with no GMO, no herbicides, no pesticides

Made in small batches to ensure quality
Coconut Oil: Extremely hydrating, a great moisturizer and helps to provide a protective layer, retaining moisture in the skin while allowing the skin to breathe. As a mild oil, it is very good for inflamed or irritated skin, and on dogs with skin sensitivities.

Olive Oil:Rich in vitamins, minerals, natural fatty acids, and antioxidants. Known for its ability to nourish, rejuvenate, and protect the skin.

Jojoba Oil:A great cleanser and an excellent moisturizer. Jojoba also contains fatty acids that help to rejuvenate and restore dry skin.

Aloe Vera: Aloe has long been known as a natural healer - good for skin and hair/fur. Aloe is used to treat a variety of skin conditions from flaky or dry skin, to burns, minor skin infections, and more. It acts as a natural conditioner to make the hair/fur look shinier, glossier, and healthier.

Lemongrass: Known for its anti-inflammatory, antioxidant, anti-fungal, and antimicrobial properties. Lemongrass is a natural astringent (cleanser) with toning qualities which help stimulate blood circulation and tone up dermal tissue. Used in aromatherapy, it is known to revitalize the mind and soul! Lemongrass is also a natural pest deterrent - for lice, fleas, and ticks.

Rosemary: Beneficial herb which has anti-inflammatory properties to improve circulation, treat dry skin, boost healing, increase the hair/fur's natural shine and hydrated appearance, and improve the quality of the skin.

Rosemary Extract: A very powerful antioxidant that is used as a natural preservative with anti-inflammatory properties.

Want to talk science? No problem. Here is how our product is made: Coconut oil (Cocos nucifera), Olive Oil (Olea europaea) and Jojoba Oil (Simmondsia chinensis) is mixed with water and potassium hydroxide under heat in a large kettle. The result of that reaction is Saponified oils of coconut (Potassium cocoate), olive (Potassium olivate), jojoba (Potassium jojobate) and glycerine. The water evaporates off and the glycerine is mixed back in while the potassium hydroxide was used to saponify the oils and is no longer detectable. The aloe (Aloe barbadensis Leaf Juice), Lemongraass Essential Oil (Cymbopogon schoenanthus), Rosemary Essential Oil (Rosmarinus officinalis) and Rosemary Extract (Rosmarinus officinalis) are added.