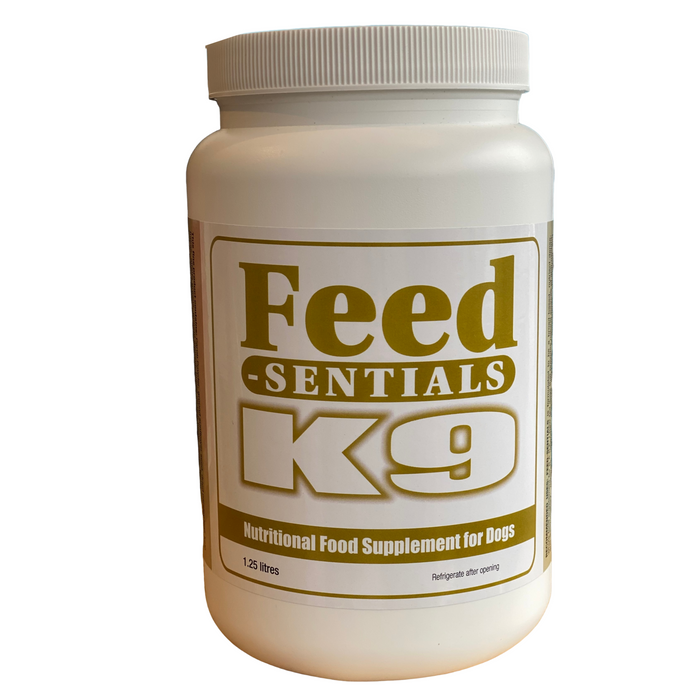 Feed-sentials
Sale
Sale
Original price
$59.99
-
Original price
$59.99
Help balance your dog's raw or cooked diet naturally, and improve their health.
ONE / CUSTOMER PLEASE
Don't wait until deficiencies appear, even raw-fed dogs required added supplementation. FeedSentials is a blend of over 50 ingredients consisting of natural, wholesome food, organic or wildcrafted whenever possible. No fillers, no dyes, no preservatives, nothing synthetic or isolated. Only real, complete food.

Think of Feed-sentials as your safety net. Added nutrition, variety and antioxidants go a long way to prevent disease and early aging.
Added vitamins, minerals and amino acids

Boost the immune system

Better nutrient absorption

Improved coat quality

Healthier skin

Increased energy & focus

Improved muscle tone

Faster healing

Improved digestion

Joint protection

Improved mobility

Decrease in body odour
Contains 84 tablespoons
small - medium dogs: between 1/2 and 1.5 tablespoon/day
large to very large dogs: between 2 and 2.5 tablespoons/day


Carob powder, ground sunflower seed, dried parsley leaf, kelp flakes, alfalfa greens, ground almond, hulled oil rich hemp seeds, hemp seed flour, dried red and green pepper, dry celery leaf, dried blueberry, dried cranberry, dry dandelion leaf, ground pumpkin seed, powdered carrot, stinging nettle, barley grass powder, dried mint leaf, powdered rose hip, paprika, burdock root powder, garlic powder, sesame seed, digestive enzyme blend (protease, lipase, cellulase, amylase), glucosamine, MSM, dill weed, coriander, anise, fennel, goat milk whey powder, powdered marshmallow root, blue Hawaii spirulina, rosemary, oregano, ginger, cumin, marjoram, thyme, savory, basil, sage, cayenne, powdered yucca, turmeric, fenugreek, bilberry, vegetal silica