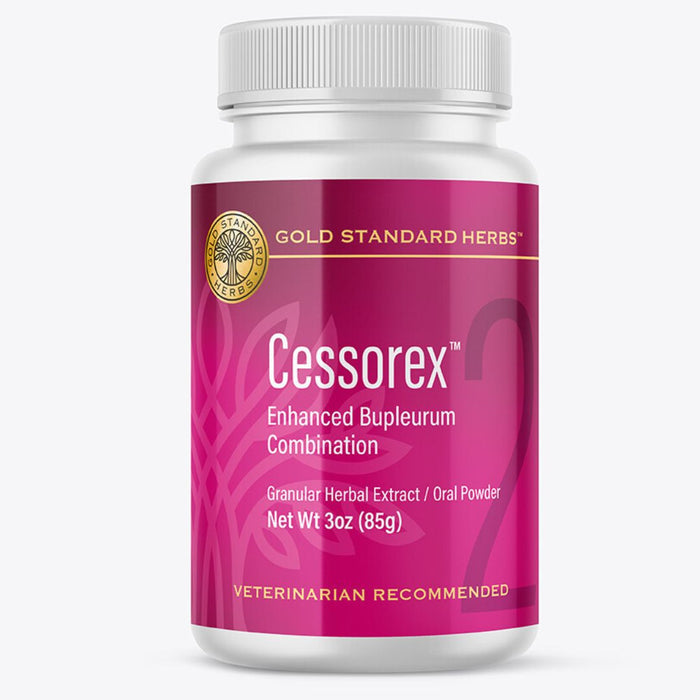 Cessorex 85g for skin health and allergies
Sale
Sale
Original price
$46.99
-
Original price
$46.99
Cessorex is based on two traditional herbal formulas used for centuries to harmonize body defenses and support healthy skin. Traditional Chinese Medicine might be the final piece of the puzzle when it comes solving your dog's itching.
"Allergies are the single largest cause of skin disease in dogs and a very common complaint. They may be mild at the start but next thing you know, your pet is itchy all year-round night and day, especially on hot days. Drugs that suppress the itch and the immune system are often used but can be expensive and have side effects. And what it they stop working?

Using immune suppressants to combat itch is like taking away Generals because you don't like their battles. The fighting stops but the enemy is still there. When the drugs are gone, allowing the Generals to come back, the battle with itch is the same or even worse.

Cessorex supports a balanced immune system that has strong soldiers but cool commanders. A balanced immune system means gradually needing fewer drugs, and not just suppressing inflammation but resolving it. Allergies can be cured, not just controlled.


Improvements on Cessorex begin in the first couple of weeks. Redness and hot spots begin to fade, the hair grows back, and ear canals slowly open and dry out. The eyes and coat regain their shine while doggy odor goes away. How quickly skin symptoms take to resolve depends upon several factors, including whether the animal is on a real food meat- and vegetable-based diet, but generally several months of treatment are necessary to see allergies disappear."
INGREDIENTS
Bupleurum chinense root

Scutellaria baicalensis root

Panax ginseng root

Rehmannia glutinosa root

Angelica sinensis root

Paeonia lactiflora root

Ligusticum sinense cv. chuanxiong rhizome

Zingiber officinale root

Pinellia ternata rhizome

Ziziphus jujuba fruit

Glycyrrhiza uralensis root

Natural flavoring
Cessorex is an organically grown concentrated herbal extract in powdered form. Cessorex acts more quickly and completely if your pet is fed a real food meat- and vegetable-based diet.
To use, just fold the herbs into your pet's real food diet or shake them up with broth or water and pour them over top if using canned or kibble.
Give twice daily as follows:
Up to 30 pounds: ¼ tsp

30 to 60 pounds: ½ tsp

60 to 90 pounds: 1 tsp

90 pounds and up: 1 ½ tsp
One bottle of Cessorex lasts over a month for dogs 30 lbs and under; and for two weeks for large breed dogs