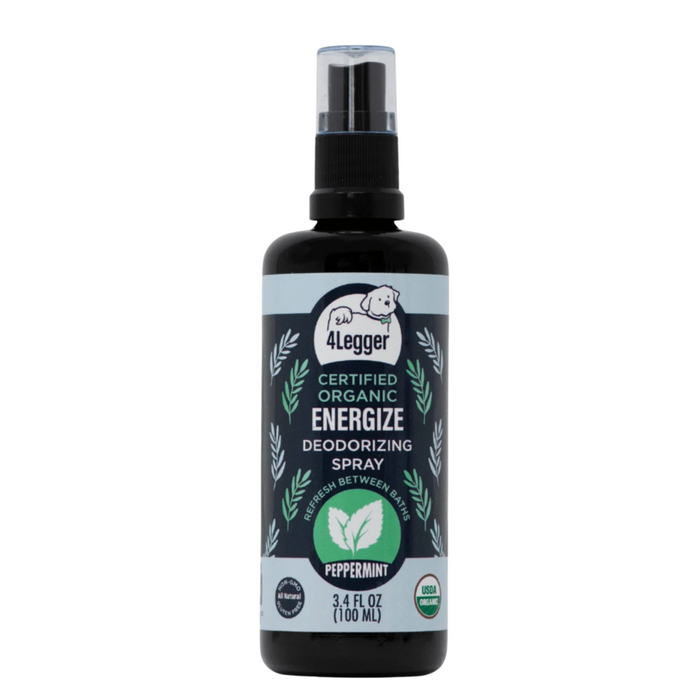 Peppermint Deodorizing Spray (all natural)
Sale
Sale
Original price
$31.99
-
Original price
$31.99
A far cry from many other sprays, this in-between baths deodorizer is 100% natural.
Non toxic.
No synthetics.
Peppermint all natural dog deodorant is a simple blend of purified water, organic essential oil, and organic oils crafted to provide a light mist of essential oils on your dog with oils that help your dog's coat and skin stay moisturized without leaving them an oily mess!
An uplifting and refreshing all natural dog deodorant featuring peppermint, a naturally cooling essential oil that awakens the mind and spirit while helping to repel pests.
Packaged in Miron glass bottles to allow only infra Red and UVA light (ultraviolet light) to penetrate to protect the essentials oils inside.
HERE'S WHAT'S IN IT AND WHY
Purified water, organic peppermint essential oil, organic olive oil, organic ginger essential oil, organic rose hip seed oil
Purified water: Filtered to remove all of the bad stuff you don't want your dog licking off and ingesting, it is added to make the spritz easy to spray out of the nozzle without clogging.
Organic Peppermint Essential Oil: Peppermint truly awakens the mind and spirit. It has pest repellency abilities and is a natural antibacterial and anti-fungal that helps to balance oily skin and moisturize dry and itchy skin. It also helps to reduce inflammation.
Organic Extra Virgin Olive Oil: Rich in vitamins, minerals, natural fatty acids, and antioxidants. Known for its ability to nourish, rejuvenate, and protect the skin. A heavier oil than the organic rose hip seed oil, it will help to coat the hair shaft and help with dander, frizz, shine, and sealing your dog's coat to help retain moisture.
Organic Ginger Essential Oil: Ginger restores motivation and stimulates willpower and helps relieve sore muscles. It also helps to boost the immune system and helps to decrease pain. It is a great addition to peppermint with a warm woodsy scent.
Organic Rose Hip Seed Oil: A very lightweight oil that won't leave your dog's coat oily and greasy, it is packed with natural Vitamins C, A, E, omega 6 and omega 9 along with other nutrients. It helps to moisturize your dog's skin and helps skin cells regenerate quickly to improve your dog's skin tone.